Photo Gallery


---
---
| | |
| --- | --- |
| Here is this amazing Quilts of Valor quilt featuring blocks donated by our customers during Military Appreciation Month. The quilt was assembled and quilted by Jackie II. Thank you again to everyone that participated in this year's charity block quilt, we have so many blocks we will be able to make two more quilts! | |
---
Patches Kids Camp, Session Two was amazing!
The girls had so much fun designing their aprons, little totes, and other small projects.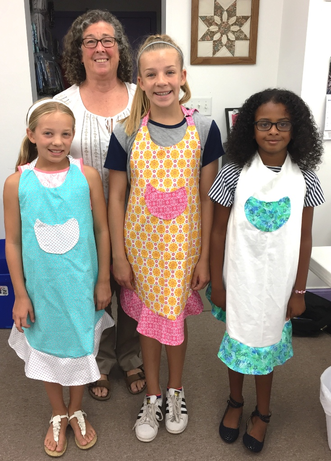 Here is Karen B.'s beautiful quilt that she completed
after taking our One Block Wonder class.
We're mesmerized by how great it came out!

---
---
Patches Kids Camp, Session One was a big success!
The kids had fun making a tote bag, pajama bottoms,
a pillowcase and more.

---
---
---
---
Patches is sure to inspire you with our wide
range of fabrics in a variety of colors and prints!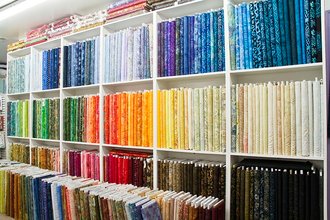 ---
Stop by and check out our wonderful notions!
They'll be sure to help you on your next project!

---
Ginny Brown has recently completed her Studio 180 Design/ Deb Tucker certification class in order to become an instructor!
We are so proud of you, congratulations!

---
Kids Camp June and july 2016!

Our lovely ladies had such a fun time at our annual Kids Camp, here are some of their unique designs!

---
Quilts of Valor

Showcased here are some of the amazing quilts created as charitable gifts for the Wounded Warriors Project

---
Here Are Some Additional Customer Creations!

---
Mimi Dietrich's Baltimore Album Year Long Class
---
| | |
| --- | --- |
| Slideshow of pictures from the 2013 EUREKA! Reunion | |
---
Store Sample Quilts and Customer Quilts!